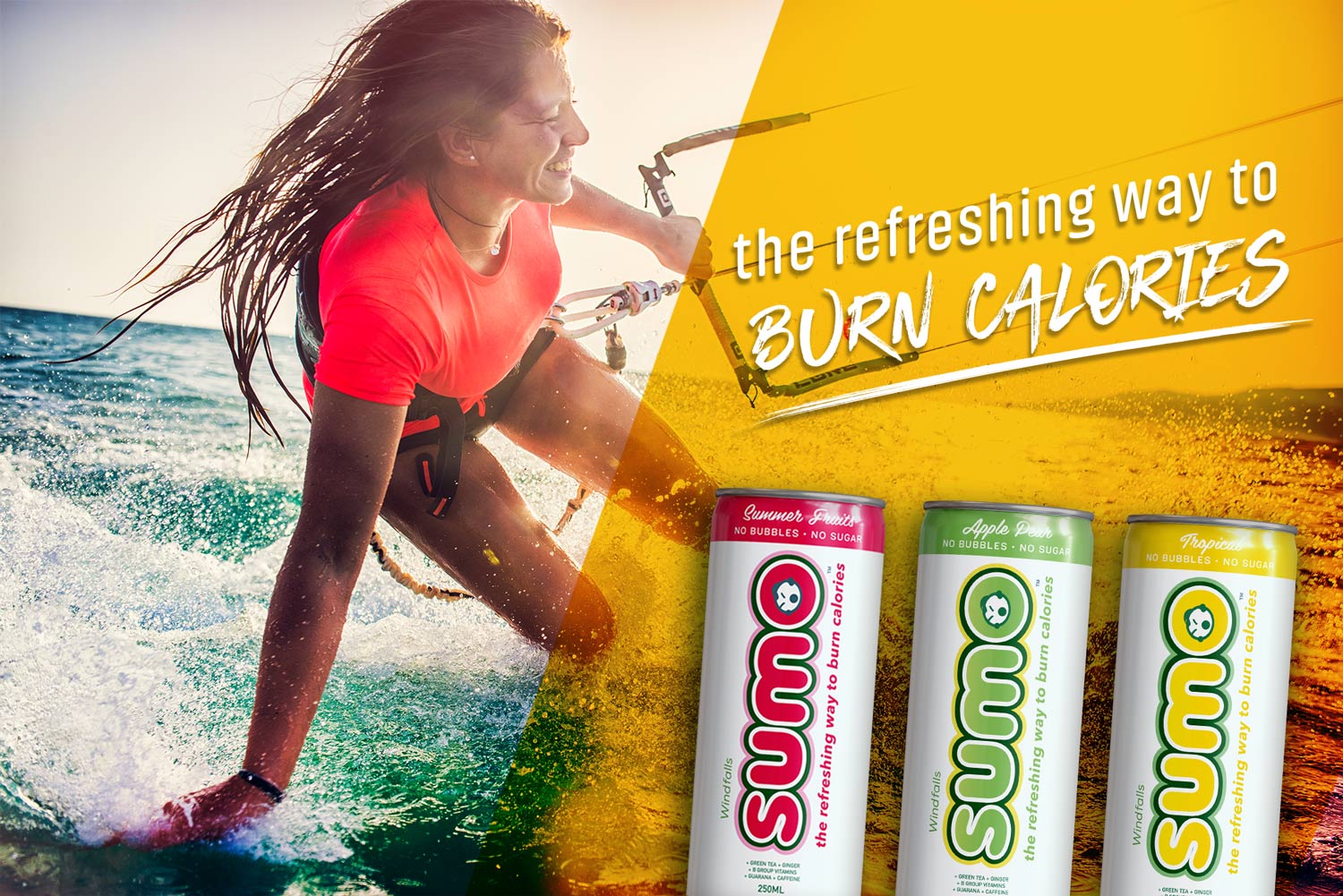 ABOUT
SUMO contains a blend of natural ingredients recognised around the world as helping to stimulate the metabolism and burn calories.
With no bubbles, no sugar and no artificial sweeteners, flavours or colours, SUMO is the perfect addition to an active, healthy lifestyle and makes a great healthy alternative to energy drinks or coffee.
SUMO is also suitable for vegans, lactose and gluten free and GMO-free.
Available now in three great tasting flavours - Apple Pear, Tropical and Summer Fruits.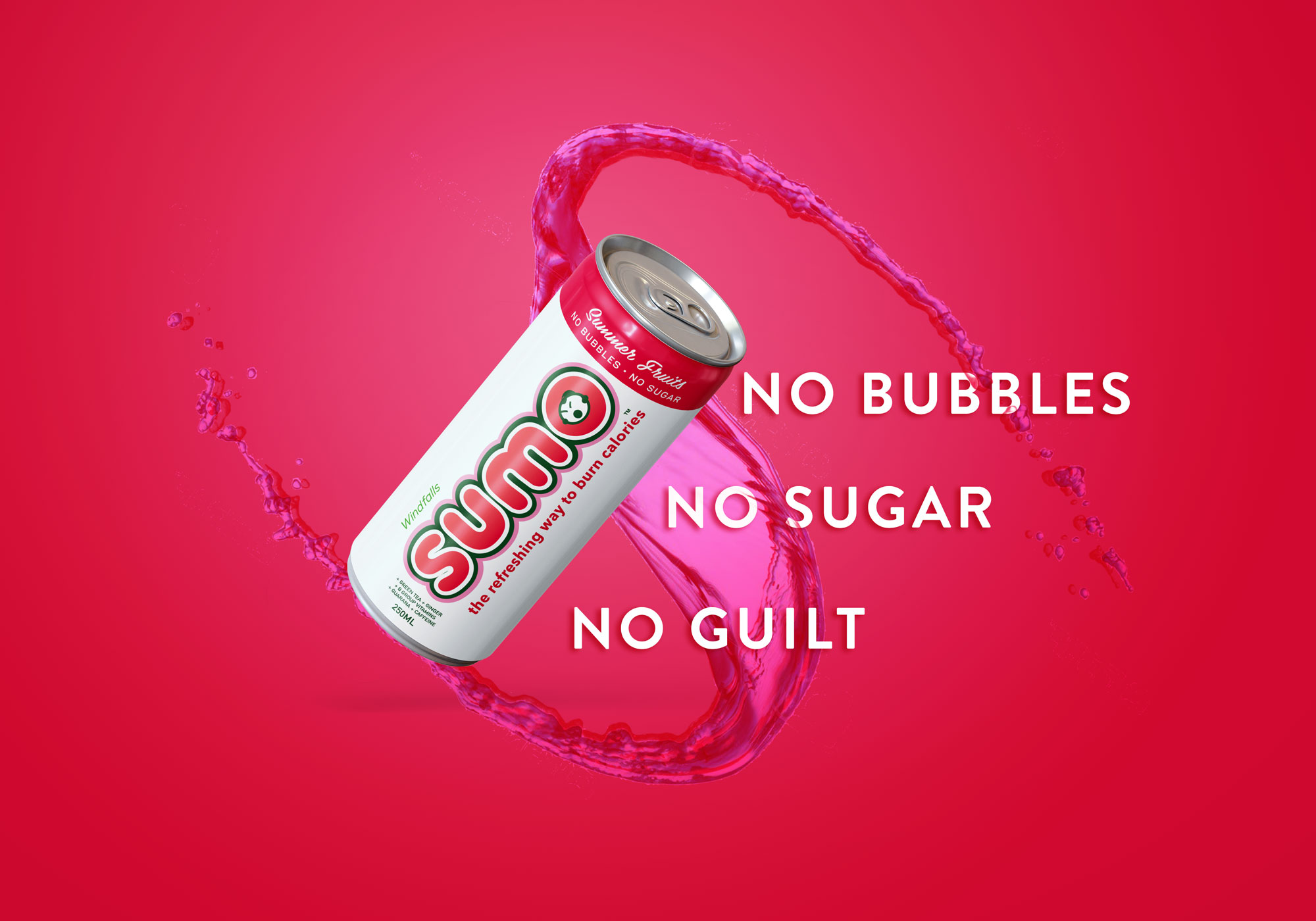 Nutritional Information
Servings per can: 1
Serving size: 250ml
| | Per Can | Per 100ml |
| --- | --- | --- |
| Energy | 10kJ | 4kJ |
| | 2kcal | 1kcal |
| Protein | 0.0g | 0.0g |
| Fat, total | 0.0g | 0.0g |
| - Saturated | 0.0g | 0.0g |
| Carbohydrates | 0.0g | 0.0g |
| - Sugars | 0.0g | 0.0g |
| Sodium | 0.0g | 0.0g |
Ingredients: Water, Food Acids (Citric, Ascorbic, Malic), Natural Fruit Flavouring, Natural Ginger Flavouring, Concentrated Green Tea Extract (0.11%), Preservative (Potassium Sorbate), Guarana Extract, Caffeine, Calcium Lactate, Sweetener (Stevia), Vitamins (Niacin, Pantothenic Acid, Vitamin B6, Riboflavin)
frequently asked questions
How does SUMO work?
Some of the ingredients in SUMO's unique functional formula help to create a thermogenic reaction. This speeds the body's metabolic rate and helps to burn calories.
When can I drink SUMO?
SUMO is a great part of your daily routine and fits perfectly whenever and wherever you need it most. You could use it to boost your energy levels and metabolism at your desk during the working day, before or during a workout or enjoy it with your favourite meal.
Is there any sugar in SUMO?
No. SUMO is sugar free.
Does SUMO contain any artificial sweeteners?
No. SUMO has no artificial sweeteners.
Does SUMO contain any artificial flavourings or colours?
No, SUMO uses only natural fruit flavourings and is free from colours.
Is SUMO gluten free?
Yes
Is SUMO suitable for vegans?
Yes
Is SUMO GMO-free?
Yes
How many calories will I burn when I drink a can?
Everyone's body operates in its own way. Base metabolic rates run at different levels from person to person, as well as being influenced by all kinds of factors like diet, exercise and routine.
It is impossible to give a 'one size fits all' answer on how many calories an individual will burn at anytime, including after drinking SUMO.
What we can say is that SUMO will give your metabolism a boost and help your body to burn more calories than it would have done otherwise.
How much caffeine is in SUMO?
SUMO has just enough caffeine to give you an energy boost, but is not 'overloaded'. Each 250ml can delivers 40mg of caffeine, which is half the amount found in most 250ml energy drinks.